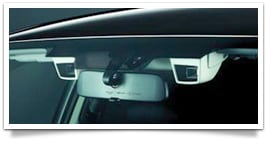 What Is Subaru Eyesight?
Subaru is always working hard to bring new features to our product line, especially features that keep you safe. Eyesight adds a lot of features such as adaptive cruise control, lane departure warning, sway warning, throttle control and brake assist. These add safety and convenience to keep you safe and comfortable. The Eyesight package looks like two lights that are placed over the rear view mirror but are actually two cameras. There are two cameras so that they can see in 3D like we do. Because they are offset these cameras can determine the speed of objects in front of your vehicle and keep tabs on lane markers. The most exciting feature is the brake assist. When an Eyesight equipped Subaru is approaching a vehicle with less than a 20MPH difference in speed the system can apply the brakes to bring itself to a complete stop if necessary.
Even when you are approaching a stopped or slow vehicle at a much higher speed the system still can help you by sounding a warning and applying the brakes to lessen the impact. The system releases control as soon as the driver changes input by swerving or other maneuvers. When you set the cruise control the adaptive cruise helps control the speed of your vehicle in traffic that is moving at an unsteady pace. When you set the cruise control the system will slow and accelerate along with traffic. It will even work during stop and go traffic. When traffic starts moving after having been stopped the car will start accelerating with traffic after the driver taps the gas peddle.
The lane departure systems helps alert the driver if the vehicle drifts out of your lane without the turn signal on. This is very useful in case the driver becomes distracted. The system will also detect if the vehicle sways in the lane, a sign that the driver may be drowsy. Another useful feature is throttle control, if the vehicle accelerates towards an obstacle the throttle is reduced and the brakes may be applied. This comes into play if perhaps the driver mistakenly puts the car into drive when they meant to put the car into reverse in a parking lot or garage.