The 2014 Subaru Forester - A High Performance Crossover In Cincinnati



Today we will explore what the 2014 Subaru Forester has to offer to drivers. This Subaru is one of the most reliable crossover models in Cincinnati. The Forester has a side profile that resembles Subaru's traditional sedan designs. A rear spoiler and wide stance add a sporty character to this Subaru.
When you look under the hood of the 2014 Subaru Forester, you'll find a true engineering marvel. The 2.5 liter Subaru Boxer engine is unlike any other engine on today's auto market. Instead of a traditional inline or V shaped configuration, the Boxer Engine has a unique horizontal layout for the four cylinders. The compact 2.5 Liter Boxer Engine can generate 174 foot-pounds of torque and 170 horsepower. For maximum power, you can select the 2.0 Liter turbocharged Boxer engine that can generate up to 250 hp.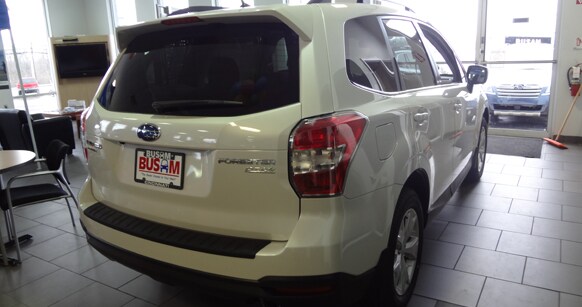 The impressive mechanical technology in the 2014 Subaru Forester goes beyond the powertrain. This Subaru crossover is equipped with a signature Lineatronic Continuously Variable Transmission System. Using a system of belts, the unique CVT system optimizes acceleration and shifting much better compared to traditional transmission systems that use gears. Synchronized six speed manual transmission systems are available for drivers who prefer Subaru's traditional gear shifting technology. All Subaru Forester models are equipped with the company's Symmetrical All Wheel Drive. Keep in mind that not all crossover vehicles come standard with four wheel drive.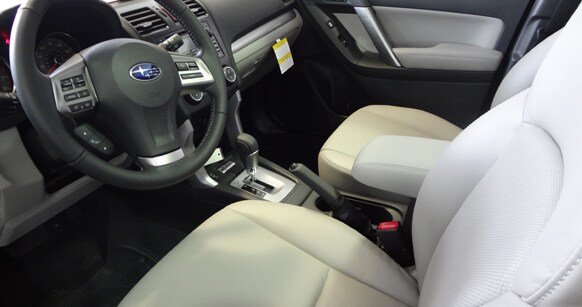 The 2014 Subaru Forester is made for adventures and road trips. An EPA fuel economy of 32 miles per gallon on the highway allows drivers to cruise through Cincinnati without stopping at gas stations frequently. With Partial Zero Emissions technology, the Subaru Forester is environmentally friendly according to strict government standards.
To enjoy a safe road trip, you'll appreciate the four wheel independent suspension system in the Subaru Forester. Brake Assist technology will help you stop the vehicle smoothly when slamming on the brakes unexpectedly. Of course, standard Anti-lock braking technology also comes in handy for smooth braking power. Even the engine-speed sensitive steering wheel can assist you with handling this Subaru crossover. X Mode technology will get the Subaru Forester out of trouble when it is driving on steep hills or in rough terrain.
The 2014 Subaru Forester is a family friendly car as it can accommodate up to 5 people. You can even fit in up to 68.5 cubic feet of cargo loads inside this crossover. Additionally, the double rooftop rails provide extra space for cargo. Offering great views of the day or night sky, the panoramic moonroof will impress rear passengers of all ages. To avoid getting distracted while driving the 2014 Subaru Forester, drivers can take advantage of the Bluetooth technology for hands free phone calls.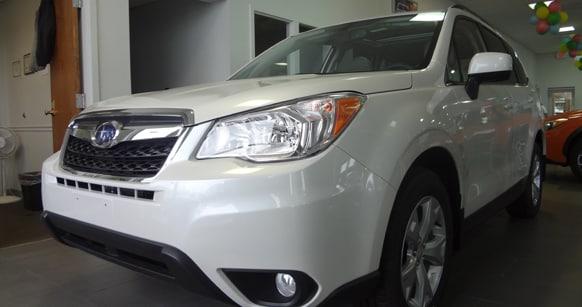 Don't miss your chance to test drive a 2014 Subaru Forester. Hurry into your #1 Subaru Dealership, Busam Subaru, and enjoy one of the most reliable crossover vehicles available in Cincinnati. Don't forget to check out the GPS navigation system inside of the Forester while exploring the capabilities of this reliable crossover.