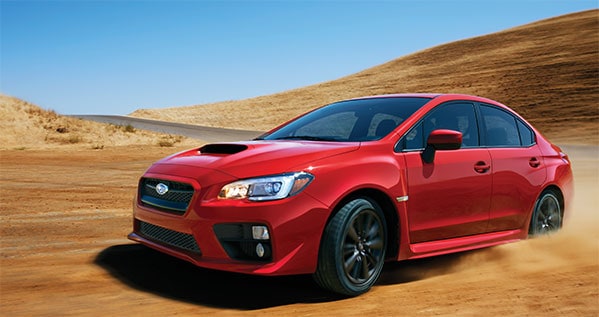 Do you feel that? It's the need for speed... Don't worry, one Cincinnati test drive in the all-new 2015 Subaru WRX STI is the perfect cure. The moment you step on the gas pedal you'll be putting the overhauled 268-horsepower 2.0-liter to the test. With 258-lb-ft of torque you'll grip the wheel tight while sinking into the racing-style seats.
Simply reach for the SI-Drive and create a driving experience that's even more personal. This handy innovation lets you be in absolute control thanks to the unique throttle response system. Plus to get a better feel for the road, this Subaru also comes with Symmetrical All-Wheel Drive. It's quite the fitting transmission for a rocket ship of this caliber. And when you're ready to change gears you might find yourself falling in love with the new 6-speed manual transmission. The control at your hand is exceptional to say the least.
But Subaru didn't just stop there for the all new 2015 Subaru WRX and STI, they went a bit further. There's a handful of neat innovations to keep your on the road like the Vehicle Dynamics Control and the Active Torque Vectoring. Paired together this dream team duo works to reduce under steer and greatly improves turn-in.
As well, I wanted to mention that the new Subaru WRX also comes equipped with a new suspension setup. For the 2015 model Subaru has completely re-built this into a monster high-performance suspension masterpiece. Even the tires are on par.. Subaru went with the 235/45-17 summer performance tires, which means dynamic corning and handling is phenomenal.
Now that might all sound incredible and perhaps you're drooling over this amazing car so far, but can you believe there's still so much more I can tell you? I mean when Subaru says "All-New", well they really meant it this time, there are some huge changes.
One of the more subtle ones you might not notice till you are on the road is the stiffer unibody that's been redesigned and has a way better and improved reflex. Driving the 2015 Subaru WRX just feels really, really solid and sturdy but there's still plenty of room for play. To put in another way, this is the upper echelon of sports car handling in its class.
You've got the turbocharged engine, an amazing handling setup with the suspension, sport tires, a handful of innovative features and so much more all under one roof. It's quite impressive, often scary at times if you push the limits. And that's not to say it's not safe, it absolutely is. Which is why you'll grin ever bigger when you're driving it around Cincinnati, Ohio... Here's why:
The 2015 Subaru WRX also has brand new, upgraded front brakes, which deliver 40% MORE fade resistance. A 16% body roll reduction with bigger front and rear anti-roll bars. Available Brembo performance brakes for track-ready performance, yes I said Brembos! You can even pick up lightweight forged aluminum BBS wheels to match the experience.
But keep in mind... I'm merely describing a sports sedan here on the internet, imagine for one second driving it in person. This car is a blast, and I'm forgetting to cover a million other things. Keyless entry and start, STI short-throw shifter, and much more.. You'll have to see it in person to truly appreciate all that it has to offer! A quick stop over to Busam Subaru here in Cincinnati, (Fairfield, Ohio to be exact) will let you take this monster on the road. It's a fun drive, and chances are you'll enjoy it. (Passengers will too as you jolt them into their seat while taking off).
But before I go, just remember one thing.. Subaru will be launching a thousand limited WRX STI models which feature some exotic upgrades and neat items. If you want one, you'll have to get in early, because just like the WRX STI itself, they will go fast.. Pricing starts at $37,395, plus tax, title, license and other fees, but if you're curious for more information just give us a ring. We're very easy to talk to and there's no commitment at all: 513-870-0091.